Pregnancy & Post Natal Classes
We offer one on one and small group pre and post natal Pilates.
Pilates Physio Style offers specialist pregnancy (pre natal) and after pregnancy (post natal) pilates classes in Hornsby and Brookvale on Sydney's North Shore. Our experienced team has worked for many years in the women's health both treating women during their pregnancy and beyond, and as clinical Pilates instructors.
Pilates Physio Style is a provider of online courses on behalf of Fitness Australia addressing
Optimal Exercise During Pregnancy
and
Optimal Exercise After Pregnancy
.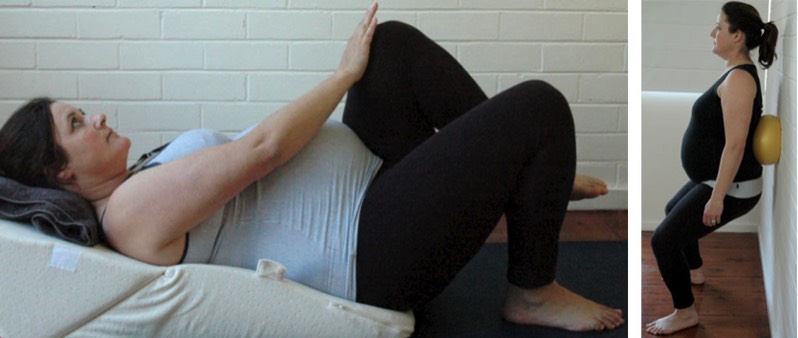 For everyone, it is important that we are educated and made aware of what "good" posture should feel and look like, so we can retrain the brain to re- adopt these optimal postures. PPS teaches you good sitting, standing, walking and lifting postures which you can integrate into your everyday activities, reducing those sore and tight areas and allowing us to rely on our deep postural muscles for support.
Scientific evidence supports the link between incontinence and back pain, and this for a new or expectant mother can be a major problem. Pilates helps to reduce this problem with a focus on firstly correct breathing patterns which allows effective recruitment of the deep core muscles; the deep abdominals, pelvic floor, and deep back muscles; which then allows you to safely use the big muscles of the shoulders, legs and back for more demanding tasks. Our classes are "pelvic floor" safe, run either as a one on one, or in small groups. We provide safe and progressive classes that are performed using small equipment e.g. Swiss ball, bands and foam rollers. We also modify the classes to suit each stage of an individual's pregnancy or using wedges when lying on your back, taping and belly theratube for extra support.
THE BENEFITS OF PRE NATAL PILATES
Assists your body to adapt to the changes of posture that occur throughout your pregnancy.

Relieves back and pelvic pain

Reduces the likelihood of "abdominal separation" (Rectus Abdominus Diastasis)

Reduces the likelihood of incontinence problems during and after pregnancy

Assists in a faster return to your normal body shape, muscle tone and strength after birth
THE BENEFITS OF POST NATAL PILATES
Restores your pre pregnancy shape and posture

Restores good breathing patterns

Regains control of the pelvic floor and core muscles

Prevents or management incontinence issues

Assists in the treatment of "abdominal separation" (Rectus Abdominus Diastasis)

Begins to increase overall strength to adapt to the physical demands of motherhood.

Prepares your body for aerobic and high impact exercise
ASSESSMENT
Before you start your pre or post natal Pilates you will require an initial assessment (one hour). This will help us to tailor exercises to address your specific requirements as an individual within the small group environment, and objective measures to evaluate your improvement throughout the term.
During this assessment we will:
Measure your abdominal separation (post natal only)

Assess your posture (including your spine, shoulders and pelvis)

Provide an appropriate pre or post natal home programme to address your most relevant issues.

Advise on pre pregnancy activities or return to exercise after giving birth.
REAL TIME ULTRASOUND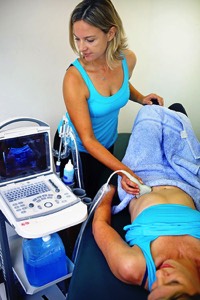 A consultation with an experienced physiotherapist using Real Time Ultrasound is helpful to ensure you are activating the correct muscles when doing your core and pelvic floor exercises.
The Real Time Ultrasound will bring a picture of your muscles up on a screen and you are able to view them as you are activating them.
Am I doing "it" properly?
Can I maintain good core activation?
Curious what it all looks like under the skin?
FAQ's

When can you attend a pre natal class?

If you have been doing Pilates prior to pregnancy and your medical provider has cleared you for exercise there is no reason to stop your Pilates classes when you find out you are pregnant.
If you are new to Pilates, as a guideline you can commence 12 weeks post delivery, provided again, you have clearance from your medical provider.

It is safe to continue your classes up until the time you give birth, but most pregnant women tend to stop around 36-38 weeks depending on how they feel.

When can you attend a postnatal class?

You can commence or return to classes once your medical practitioner, at the 6-week check, has cleared you.