Established in 2004, these highly specialised and personal core stability programmes are conducted by experienced physiotherapists trained in clinical Pilates. They are a safe and effective exercise method that can:
improve posture and body tone
improve flexibility and balance
improve pelvic floor function
reduce incidence of injury
strengthen 'tummy' during and post pregnancy
improve your sports performance, or just your ability to perform everyday activities.
An initial one-on-one consultation and introduction, is followed by a 10 week programme in small groups.
Specialised core stability programmes also for:
backs and necks
mums and bubs (
crèche
)
mums to be
Health Fund Claimable Pilates Sessions *

* Claims are made under a physiotherapy individual and group consultation. Claimable amount varies by health fund and policy. Almost all health funds will cover your initial individual assessment and your first few terms. If you are planning to continue these classes as a maintenance or preventative measure, please check that your particular health fund will allow for this.

REAL TIME ULTRASOUND ASSESSMENT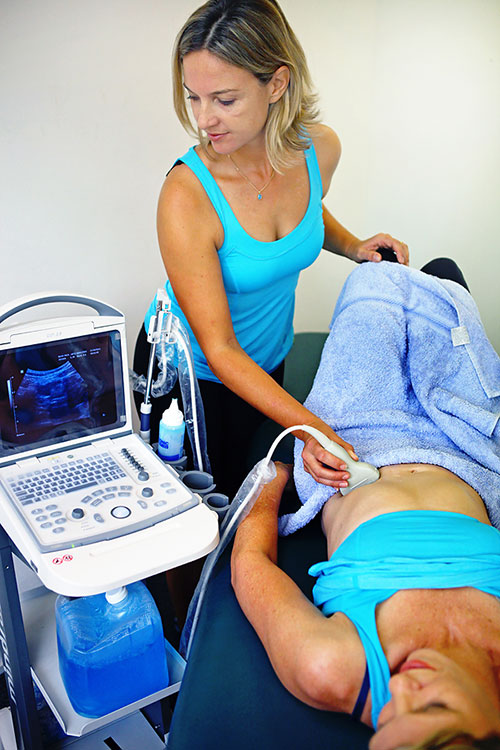 Am I doing "it" properly?
Can I maintain good core activation?
Curious what it all looks like under the skin?
Would you like to see if you have mastered the correct activation of the core using Real Time Ultrasound?
Its non invasive and instant!
Cost is $80
This includes a 45 minute review of your home programme. Payment is prior to, or at the time of the assessment.
Health fund claimable
Please book in at class time with your Physio, or email/ call :
trish@pilatesphysiostyle.com
0410 531 451
lorraine@pilatesphysiostyle.com
0405 551 750